RechercheLivres (aka DieBuchSuche) - le moteur de recherche pour tous les livres.
Tous les livres de 9782819907695 - comparer chaque offre
Entrée de l'archive: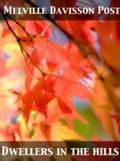 Dwellers in the Hills
(?)
ISBN:
9782819907695 (?) ou 2819907695
, langue inconnue, Pub One Info, Nouveau
Penghantaran percuma
Dwellers in the Hills: I sat on the ground with my youthful legs tucked under me, and the bridle rein of El Mahdi over my arm, while I hammered a copper rivet into my broken stirrup strap. A little farther down the ridge Jud was idly swinging his great driving whip in long, snaky coils, flicking now a dry branch, and now a red autumn leaf from the clay road. The slim buckskin lash would dart out hissing, writhe an instant on the hammered road-bed, and snap back with a sharp, clear report. Englisch, Ebook
Données de 01-02-2017 13:56h
ISBN
(notations alternatives): 2-8199-0769-5, 978-2-8199-0769-5
9782819907695
Trouver tous les livres disponibles pour votre numéro d'ISBN 9782819907695 comparer les prix rapidement et facilement et commandez immédiatement.
Disponibles livres rares, de livres d'occasion et de livres de seconde main du titre "Dwellers in the Hills" De Melville Davisson Post sont complètement répertoriés.
amerika lotto ralf-heinig-der-comicwurm-aus-hannover